On September 16, mainland China reported the first case of monkeypox. Details of the case was reported in China CDC Weekly and it was confirmed that MPXV strain in this case belongs to B.1 branch of the West African linage, and it was highly homologous to strains from Germany collected on June 21, 2022. This is the first imported case of monkeypox in the mainland of China and the fifth confirmed case in China (3 imported cases of monkeypox human infection in Taiwan, China and 1 case in Hong Kong SAR, China).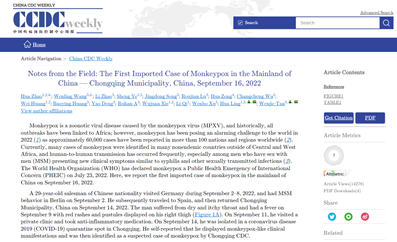 The outbreak of monkeypox has been posing an alarming challenge to the world in 2022, according to the World Health Organization (WHO), more than 60,000 cases of monkeypox have been detected in over 100 nations and regions worldwide, and 98% of them are in the European and North American regions. WHO has declared a public health emergency of international concern.
Monkeypox is a zoonotic viral disease caused by the monkeypox virus, people can catch monkeypox through close contact with someone who has symptoms (e.g., touching, talking, kissing, sex) or touching contaminated things. Symptoms of monkeypox often include: rash on face, hands, feet, body, perianal area or genitals, headaches, fever, swollen lymph nodes, low energy, painful swelling inside rectum, pain or difficulty when urinating, etc.
Monkeypox is preventable! We have to know the symptoms and check ourselves regularly, avoid close contact with people who is diagnosed with or has suspected monkeypox. In addition, it's essential to control the human-to-human transmission of monkeypox through early detection, early reporting, early isolation, and early treatment.
Facing the emerging monkeypox virus challenge worldwide, Laihe Biotech has developed and produced LYHER® Monkeypox Antigen Test Kit, LYHER® Monkeypox IgG/IgM Antibody Test Kit to assist in the early detection and diagnosis of Monkeypox disease, The product is aimed to facilitate public health institute worldwide to increase their diagnostic capabilities, allowing for an efficient and rapid public health response in the case of an outbreak.
---
Post time: Sep-30-2022